I am back from Australia now, with a major case of jet lag. I knew my trip would be an important moment in my life, but I didn't realize just how life changing it would be. I came to the Gold Coast as a speaker, to share my knowledge and imagination with fellow photographers. I didn't realize how much more I would gain in return. I have come back refreshed and to be honest, a bit overwhelmed. I am taking my business in a new direction effective immediately, focusing on what I love to do and where my strengths lie, conceptual portrait photography. To me there is no better feeling than creating a concept, working on every detail of it with my own hands and seeing it all the way through to the end. I feel great about this decision and I am looking forward to what the future holds for my business.
I met some of the most amazing people on my trip. Within a few days after leaving the Gold Coast I could honestly say, "I miss my Aussie friends!" Not only for great business and photography advice, but for their warm spirit and friendship. They made this American girl feel at home. I can say with all certainty that I will be back and crashing at all of your homes!
Shirl and Rob Heyman are fantastic for providing this conference. They truly want to help all the up and coming photographers out there succeed in their photography technique and in their business methods. I am thankful for the opportunity they gave me and for just being all around wonderful people.
As a result of my trip, I am thrilled to be featured in a international publication coming up next month (I will make a official announcement soon).
Of course I couldn't go to Oz without taking a self-portrait. I took the following self-portrait the morning I left the Gold Coast. I made the dress in advance from maps of US states (mostly of the eastern side of the country). Australia is the farthest I have ever been from home. Wearing this dress of maps made me feel more connected to home.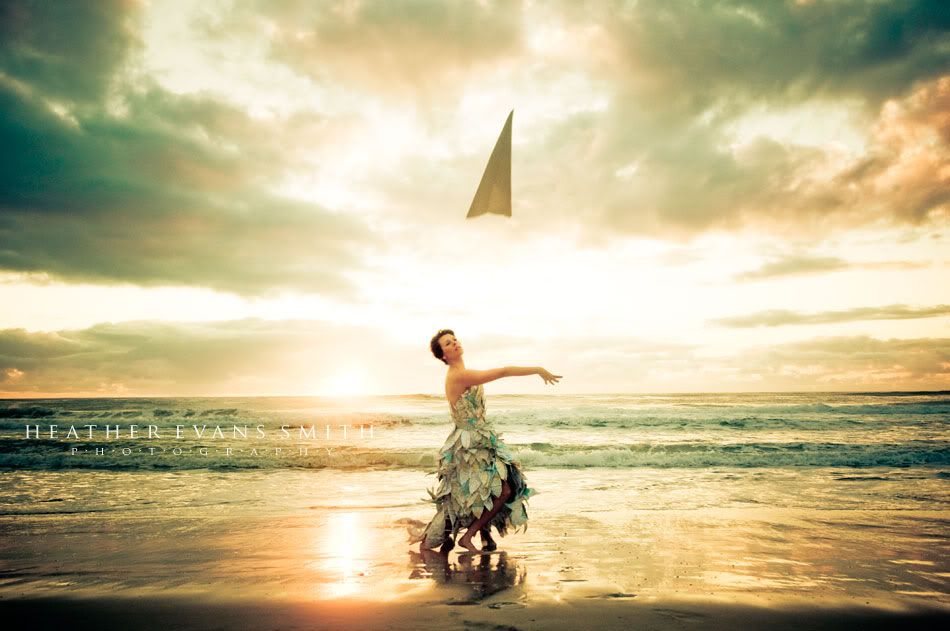 The paper airplane flew so well that I couldn't contain my excitement. Take a look at these outtakes taken immediately after. These images sum up how I am feeling about my career right now. Finding the career that you truly love is such a beautiful thing.